You are currently browsing the category archive for the 'NLP Training' category.
New Code NLP is so much about patterns. Look for strange behaviours in people, patterns of relating, walking, dodging, greeting…
Noticing the larger patterns
So much to be said when we mentally speed up people we are modelling and this gives you a long-distance hint into what you can notice.
Ants metaphor
The study of human behaviour can be usefully likened to the way we study ants. Why do we notice that ants stop and communicate or swap something as they travel with each of the ants they pass? If you can see this movie where people look like ants, and that the work we do with NLP as a metaphor for trying to understand the behaviour of people (ants) and how they interact, relate, rock, sway, move, move faster/slower.
Life Edit
Also as another metaphor, maybe when you are replaying movies of your own day, your own representation of the day – maybe remembering this sequence may help you fast forward through your own day.
The Sandpit from Sam O'Hare on Vimeo.
Podcast: Using Light to control the Brain…..this approach—called optogenetics—could return controlled movement to mice suffering from Parkinson's. Beyond controlling neural firing in the brain, scientists have recently found that by inserting another gene cells will glow green when they fire. That means they can watch the brain in detailed action, a step towards decoding its cryptic signals in order to understand just how our elusive brains work.
Scientists find that when the area of the brain responsible for understanding the intent of others is disrupted, moral judgment is also affected. Christie Nicholson reports (Scientific American)
Play the Podcast here:
sa_p_podcast_100329 or from Scientific American's website
The researchers disrupted the activity in this brain area using what's called transcranial magnetic stimulation (TMS). And they asked subjects to consider the morality of various acts. Some where the perpetrator had the intent to harm, others where they had no premeditation.
When subjects had their brains affected by TMS, they focused less on the intention of the perpetrator and more on the outcome of the act. Regardless of whether the protagonist wanted to poison their friend, if the friend was okay, then it wasn't such a bad thing. As opposed to a lucky outcome after a heinous act.
The ultimate goal is to understand how the brain makes moral judgments. Because the real world is often less black and white, where judgment is easy, than shades of gray.
We can't touch time, or smell it. Yet it is utterly inescapable. But, research shows, time is – at least partly – something we control in our heads.
Although we rely on other ques when they are available, have you ever woken from a good sleep because you have told yourself you must get up at a certain time? I know many times when I set an alarm for getting up for a specific event, my body wakes me about 2-10 minutes early.
The Caveman experiment (from BBC article)
The body clock determines our most fundamental behaviours: when we wake up, go to sleep, and eat. But it also determines our physical strength and performance over a day.
However basic the clock's functions seem to us today, its existence was only proved in 1962, by a French caver.
19th September 1962: Michel Siffre, the scientist who spent nine weeks alone in a cave 400 ft underground in southern France has his eyes covered to protect them from the light. He is being helped by two gendarmes to a helicopter on his way to Nice. (Photo by Keystone/Getty Images)
Michel Siffre had been planning to study the movement of a glacier through an underground cave, when he realised the enormous potential of his experiment for the field of biology.
"I had the idea of my life: I decided not to take a watch in the cave. I decided to live without time cues," he said.
By isolating himself underground, away from daylight, clocks or routines, he hoped to discover whether the body had its own rhythm. And if so, what it was.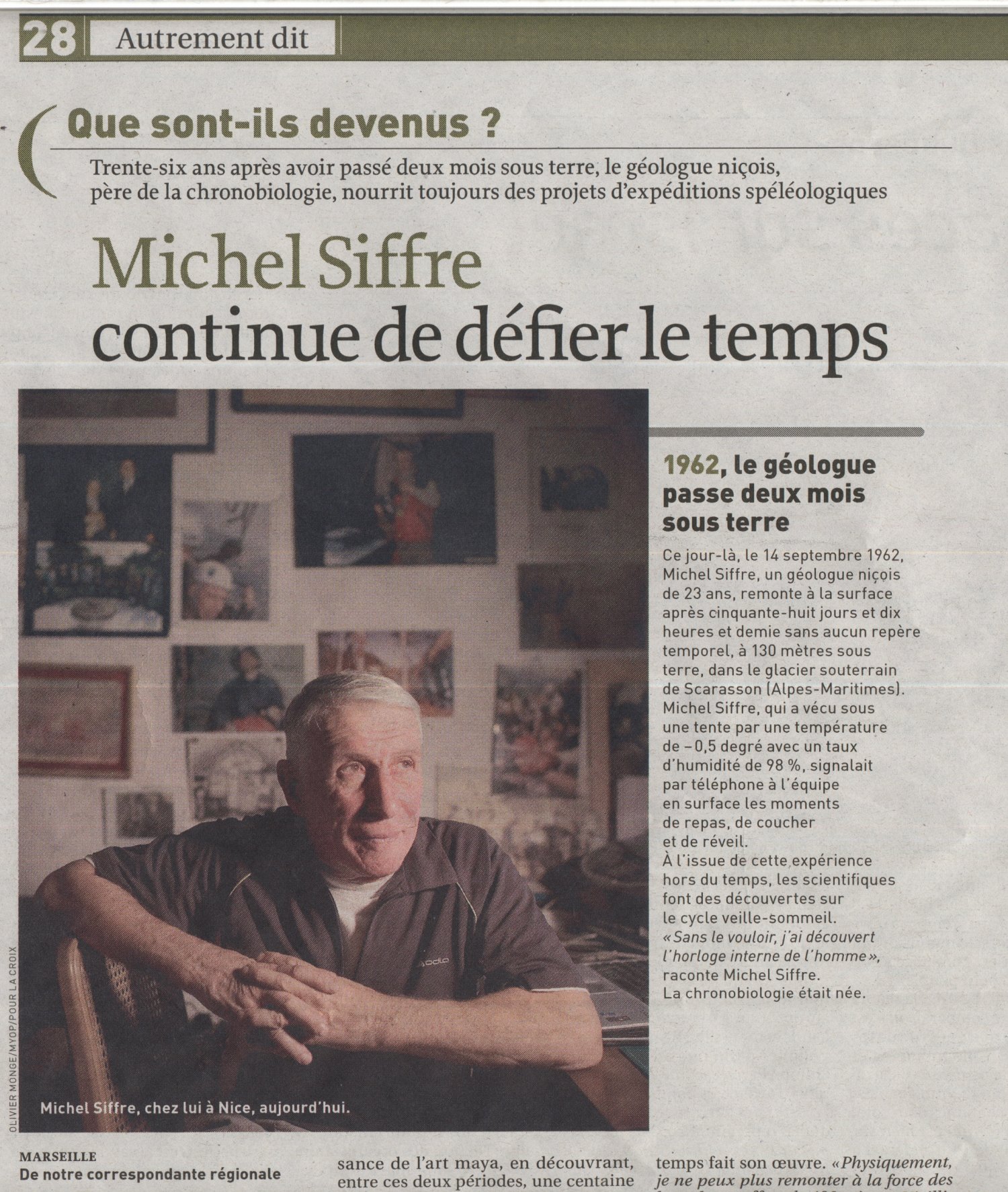 The continuation of the newspaper article is in French also.
"I decided to live following my feelings of hunger, my feelings of going to sleep. In the cave it's always dark, then your body follows its own sense," said Mr Siffre.
His plan was to call a surface-team of assistants every time he woke, ate, exercised or urinated so every one of his biological functions could be monitored.
Each time, he would give an estimate of the date and time, and the surface-team would compare this with the real time. This he did for two months, before emerging into the real world. Mentally, he had completely lost track of time, but the results showed his body had kept up a rhythm.
While the length of Siffre's waking days varied widely, from 40 hours to just six, a clear pattern emerged. The average length of his days was just over 24 hours. Evolution, it seems, had tailored his body's clock to run closely to the Earth's day length.

It's now known that the body clock is controlled by a tiny pea-sized organ in the brain called the suprachiasmatic nucleus, or SCN. This tiny region commands a chain of chemical and nervous instructions that ripple through the body, controlling how each organ and tissue functions over the 24-hour day.
"I can't believe I just said that, I am sorry – it came out all wrong that is not what I meant. I am sorry, I should think before I speak …" As my friend, Jan, trying to explain the situation over the phone with her boyfriend, Chris, responded "yes, you should have" and he then hung up on her. This happened six years ago.
Have you ever experienced the "I shouldn't have done that" moment? May that be the email you have just sent, things you said or the action you just did? While with Microsoft Word, you can click on "Undo", or with Gmail you can use "Undo Sent" in 5 seconds or with LinkedIn you can have "15 seconds to un-publish", but when you are interacting with another person, there is no way to "undo" what had just happened. Worst of all, as my grandma puts it "I can forgive, but I won't forget" and "by the time that one says sorry, it is already too late".
The best thing is "don't do it"; stop before it happens. It seems simple, but to Jan, it sounds like "Mission Impossible". This article will explain to you how our response is formed and how we can create change with NLP.
It is all because of the Amygdala
I first heard about the Amygdala when I learned about the "fight-or-flight responses". Listed in the Gray's Anatomy as the nucleus amygdalæ), the Amygdalae are almond-shaped groups of nuclei located deep the brain in complex vertebrates, including humans.
The amygdalae perform primary roles in the formation and storage of memories associated with emotional events, where they form associations with memories of the stimuli. This is for both fear and appetitive (positive) conditioning. In his recent interview with Harvart Business Review writer, Peter Bregman,  Assistant Professor Joshua Gordon, a Neuroscientist at Columbia University, "There are direct pathways from sensory stimuli into the amygdala …, the emotional response centre of the brain. When something unsettling happens in the outside world, it immediately evokes an emotion".
The Interplays of Mind and Body
I remember the time that I was an IT project auditor, appointed to check on the quality of a project delivery as was carried out by a group of contractors. To ensure the quality was up to standard before it was handed back to in house support staff, I as a junior programmer and the only permanent staff member representing the company, was requested to carry out a series of auditing activities. As I carried out my work diligently and finding multiple areas that required re-work, the program manager and project manager (both contractors) become very unsettled.
One night as I was working late, they invited me to go into their office, which is situated in a rather prestigious club. The program manager, in front of her team of six people sitting on either side of her, pointed her finger at me with one hand and slammed the table with the other and roared "How dare you second guess me with your audit report". Unsettling, was an understatement, my first reaction was to cry and slap her face for humiliating me in front of a group of strangers. My heart was pumping hard, my breath was fast and I felt my brain become very fuzzy. I heard myself saying in side "No you can't slap her, she is just trying to scare you; take a deep breath, wait a minute, then respond."
What happens at the moment of facing an unsettling situation is that our body is ready to respond; in the past it was "fight or flight" response. When we perceive or sense that there is danger, the sensory information is relayed through hypothalamus to the brainstem (The brainstem (or brain stem) is the lower part of the brain, adjoining and structurally continuous with the spinal cord.)
That rate of signalling increases the rate of noradrenergic activity, which means that the stress hormone – norepinephrine is produced and affects parts of the brain where attention and response actions are controlled. Both epinephrine and norepinephrine, directly increases the heart rate, triggers the release of glucose from energy stores, and increases blood flow to the skeletal muscle. The person experiencing the stress now becomes alert and attentive to the environment and ready to act.
This chain of events creates various degrees of changes and reactions within us chemically and physically. In NLP, the easiest way to explain is by understanding New Code NLP's "Chain of Excellence", simply put; your level of performance (or behaviour) is dependent on your emotional state (which is related to your brain chemical productions), which will have a corresponding physiology and breathing pattern (respiration).
When I ask myself to wait and take a deep breath, I am asking myself to change my breathing pattern, physiology and emotional state so that I can perform or behave in the way that is optimal for the situation.
At the same time, I am also allowing myself the time for my prefrontal cortex to work. According to Dr. Gordon "The key is cognitive control of the amygdyla by the prefrontal cortex. If you take a breath and delay your action, you give the prefrontal cortex time to control the emotional response". And he says it only take the prefrontal cortex a second or two to respond.
It seems Google's 5 seconds is a good guide. So, go back to my experience at the club, I took a breath to calm myself down and wait for a while and responded in a way that no face was slapped, no tears were shed and the issue was resolved with the right level of escalation within the company hierarchy.
As to Jan, after calming her down through breathing exercises, I asked her to mentally play out how she would like to respond and step into Chris's shoes to notice how he might re-act. Based on how Chris might re-act, Jan made changes to her approach to convey her feelings and messages differently. Six years later, Jan shared that "that day when we (Chris) argued over the phone, marked the turning point in our relationship, because we learned how to manage our emotions as well as being considerate to each other's feelings".
How NLP techniques can help you
One of the fundamental skills that NLP teaches is the individual's ability to self observe and become very self aware of how they are contributing to the current relationships that they are observing. In other words, we are observing the role that each of us play in a current situation and create alternate behaviour accordingly.
Not only do we teach people how to become self-aware, with NLP we also teach students how to really step into another person's shoes and consider other people's perspectives, not just our own. To be able to self-observe and consider other people's perspective is key for building successful relationships, creating harmony and makes us human.
Another fundamental skill that one can learn from NLP Practitioner training is how to re-program our own responses or neural-pathways to create change. The simplest way that you can do is remember a time that you might have lost your temper and reacted very strongly, only to regret what you said or did later. This is a bit like watching a movie frame by frame, right to the end of the event.
As you watch this mental movie, notice the frame that presents the behaviour that you would like to change. While noticing the frames you would like to change, pay attention to note your alternative behaviours that might be more suited. It is like you are the producer in the editing room, chopping and changing the sequence of the film over and over again until you are satisfied with the film. Once you feel good and satisfied with your new film, act it out mentally or physically as if you are in the film. Pick three more potential situations that might happen in the future where your new behaviour would be useful, create a new film and act it out mentally or physically, as if you are rehearsing a role.
Another simple way is using NLP's "Chain of Excellence". These days, whenever I notice I am about to react in a way that will only make things worse, based on the NLP "Chain of Excellence", I might change my breathing pattern, my physiology or simply pause to give my prefrontal cortex the time to respond differently and change my emotional state.
There you are – a few very simply ways you can use NLP to enhance and improve the quality of your life today. Improving the quality of life is one of the main benefits that our students get from our NLP training programs. Now is a good time to become aware of how to improve your lot in life, because our next NLP Practitioner course is starting very soon in Brisbane.
Improving the quality of your life and your emotional intelligence is an investment for the rest of your life.
This year we will reach out to the Sunshine Coast and the Gold Coast as well. So, an invitation from us to you to make improving your quality of life a priority this year, learning NLP will be a good way to achieve that. If you want an NLP training course that is as good as you will find, contact us. We value our reputation for attracting the best students who really want to make a difference in their own life as well as others.
Hire Ground, January 21, 2010
Do hiring managers know your 'emotional IQ'?
By Randy Woods, NWjobs
[excerpt] original article
Ever wonder how some people manage to sail through the job search process? Even though you plan your answers meticulously and research positions as much as possible, there are some people who seem to know how to make a connection quickly and nail the interview every time.
True, an abundance of brains, charm and luck may have something to do with it. Career coach Lisa Caldas Kappesser, however, says something far more subtle is more often at work. The hiring managers are picking up on what she calls "emotional intelligence" coming from the interviewee. This isn't intelligence that shows up in someone's resume or work history, it comes across in the way a person communicates, both verbally and nonverbally.
In her new book "The Smart New Way to Get Hired: Use Emotional Intelligence and Land the Right Job," Kappesser describes how emotional intelligence can be measured by a combination of four skill sets: self-awareness, self-management, social awareness and social skills.
"Employers look for emotional intelligence when they hire or promote employees," says Kappesser, president of EQ Coaching Solutions. "They're developing structured interview questions and giving assessments that tap into emotional intelligence, because research has convinced them that such intelligence is a critical part of developing high potentials, star performers and leaders."
Here are a few techniques from Kappesser's book to help strengthen your four main skill sets and boost your confidence in time for your next interview.
Focus on three main points. Choose three messages that should be highlighted throughout your overall interview performance. It could be technical skills, experience or ability to solve problems. Whatever works for your particular situation, "plan how you will get these points across through your answers to interview questions," Kappesser says.
Research what the company needs. It's amazing how many job candidates still don't bother to read any further about potential employers beyond the job listings. "Employers admire candidates who show genuine interest in their company by being knowledgeable," she says. "Share with them how you plan to meet those needs."
Know your brand. "Ask yourself how you want others to think of you and remember you when you leave the interview," Kappesser says. If you emphasize what is unique about yourself, this image will remain in the hiring manager's mind and could help you stand out from the crowd.
Create a good communication flow. Demonstrate your interest and communication skills by asking questions, especially if you don't understand something, she says. But remember to be brief. "Let the interviewer ask for more details about any information you share," she adds.
Smile and show a sense of humor. It seems obvious, but many interviewees are too nervous to allow their sense of humor show through. A little levity, Kappesser says, "helps create a positive connection with the interviewer, which can give you the edge over other qualified candidates."
Writer and editor Randy Woods has filled out more job applications than he can count — so you don't have to. Email him at hireground@nwjobs.com.
These are demonstrations surrounding Phantom Limbs. The concept is interesting for understanding our body and the subject of proprioception and how we perceive our bodies.
Video: Derren Brown working with a man's Phantom Limbs
Derren Brown works with a person's Phantom Limb and demonstrates how he can touch limbs that don't even exist. How he does this trick I do not know, the man shows some signs of being in a trance, and there might be some hypnotic language patterns used… After all, this is Derren Brown.
Demonstration of the Mirror Box as designed and developed by V.S. Ramachandran. http://www.23NLPeople.com Demonstrated by Andrew T. Austin. This video shows the box before it is used.
Andrew T. Austin discusses the problems of contractures in treating phantom limb pain with Ramachandran's Mirror Box.
Andrew T. Austin (http://www.23NLPeople.com) discusses the phenomenum of "remapping" and the relevence to treatment with the mirror box. Also see: http://www.phantomlimbpain.org
When Spc. Bryan Wagner is driving, he pushes the gas pedal with his right foot in spite of the fact that he doesn't have a right foot.

"I drive with it," the 23-year-old said, referring to the prosthetic limb that replaced the real one he lost in Baghdad on Dec. 17, 2007, when the Humvee he was a gunner on ran over an improvised explosive device.

But Wagner, an Exeter, Calif. native with a military buzz and the burly build of an offensive lineman, says vehicular matters aren't high on his to-do list. Neither is running a marathon, which he has somehow done, and snowboarding, which he still enjoys.

What dogs him is the "phantom pain" he feels in the limb he lost, a common complaint among amputees dating back to previous wars and even showing up in literature.

In David Guterson's novel "Snow Falling on Cedars", about the Japanese-American experience during and after World War II, the protagonist Ishmael Chambers complains of pain from his missing left arm.

As of July 1, a total of 904 service members have undergone amputations resulting from the wars in Iraq and Afghanistan.

Therapy helps limbs "see"

But a new technique called "mirror image therapy" is using the reflection of the intact limb to trick Wagner's brain-in a good way.

Wearing black shorts and sweating though a tan cut-off T-shirt, Wagner demonstrated the technique Thursday at a physical therapy hub for wounded soldiers at Walter Reed Army Medical Center.

Dr. Jack Tsao, a staff neurologist at Walter Reed, oversaw the exercises.

Removing his prosthetic limb and sitting up, Wagner places a mirror on its side facing his outstretched left leg. He then performs a number of exercises with his left foot, like rolling it in circles and imitating pushing the gas pedal.
All the while he is looking at the left foot's reflection, which engenders a feeling of movement in his invisible right foot.

"It's very weird," Wagner conceded.

Patients will typically do activities like these 15 minutes a day, five days a week for a total of eight weeks. If the pain persists, which according to Tsao it can even after two years without the therapy, they start the cycle again.

The Army medical center has treated 652 of the total 904 service members who have lost arms, legs, arms and hands. It doesn't count lost fingers or toes.

The hand isn't quicker than the eye

There are two theories as to what causes phantom pain.

The first deals with mismatched signals between a person's vision and the intact neurons that dictated the movement of the missing limb. Eyes see one thing, neurons another.

Another theory posits that proprioceptive-or muscle-memory retains certain positions of limbs, some of which are painfully distressing.

Before working out with the mirror, Wagner said he often had the sensation that one toe was crossed over another or he felt like someone was stabbing him between his toes.

Dr. Tsao suggests the mirror therapy is "like a computer wiping your memory buffer."

Starting in 2006, "mirror image therapy" has since grown into wide usage. Though it has had mixed results among amputees and hasn't been very successful yet with arm or hand phantom pain, Wagner is a testament to its power.

Channeling the theories behind the therapy, Wagner has turned it into his own motivational mantra.

"Disability is only a state of mind."

In your opinion, can a person be trained in Emotional Intelligence (EI) to increase their Emotional Quotient (EQ)? See this Poll to either vote or post your vote.
We have found that those of you who want to study NLP come from 3 main areas: Self development, Career and Coaching (others).
The one thing common amongst most of them is their profound desire to better understand, work with, and change human experience and behaviour to achieve (and/or assist others to achieve) more of the life that they want.
The list of vocations that we get includes: Coaches, Therapists, Entrepreneurs, Executives, Managers, HR specialists, Sports Trainers, Project Managers, Program Managers, Business Analysts, Teachers, Trainers, Sales people, Lawyers, Medical staff, Single Parents, Parents, Couples, Personal Coaches, Developers, IT staff, IT Testers, Business Owners, Psychologists, Medical workers, Nurses, Telesales, Hypnotherapists, Body workers, Alternative healers, Networking specialists, Marketers, Speakers, Counsellors and anyone that works with people in some way.
See our more complete page of the reasons why people choose to get an NLP Practitioner qualification.
NLP is a set of tools which when applied, offer incredible assistance in many different contexts. NLP is for people who want to develop their skills further and study models of excellence which can be applied in their fields of endeavour.
Management
Understand and develop strategies to bring your clients and colleagues to quicker decision points. Develop outcomes for groups, the organisation and clients to increase productivity. Increase your ability to read and interpret the conscious and unconscious signals exhibited by others for effective negotiation and conflict resolution.
Education
Deliver your message to a group in a manner that is directly compatible to the way individuals within the group process information. NLP offers you insights on how people learn. Educators who want to adapt their teaching strategies for maximal effect in communicating with their students can do so using NLP.
Health
For practitioners who wish to gain insight into the real value their clients/patients put on their own health. Learn how to deliver your message in a way that is highly effective and discover new ways of offering assistance. Practitioners who wish to assist others towards a healthier, more vital lifestyle will find NLP methods extremely valuable.
Sales
Communication and performance with fellow staff, clients, customers and peers can be at optimum levels any time. You can find out what people really want as you learn to decode the non-verbal language of others with more clarity and accuracy.
Sports
High performing athletes and sports people can find it valuable to know what motivates and inspires excellent performance. NLP offers the ability to replicate (model) excellent performance consistently.
Human Resources
Managers whose career depends on their ability to manage people effectively, to communicate accurately and rapidly, and to consistently produce excellent results will find that NLP will enhance their skills and teach them strategies of excellence. Discover what motivates & inspires others and how to harness and use that knowledge in your work.
Business and Life Coaching
NLP skills are some of the most effective for enabling change in business and life coaching. Traditionally, coaching tends to work on the problem and NLP trained coaches work towards an outcome, discovering what it is the client really wants and what resources they require. The ability to take in information from others and discover patterns of behaviour and language without introducing your own values and beliefs makes for exceedingly professional change work.
Parenting
Parents today are faced with wide ranging methods and advice for how they deal with the rewards and challenges of having children. NLP is well known for it's gentle, easy and effective methods for encouraging children. Helping them establish strategies that enhance their learning, relationships, environment, values and identity.
Personal Development
Are you satisfied with where you are in your life? If you want to improve your communication in varying situations, consistently perform at a higher level, enhance your relationships in both professional and personal life, have more satisfaction day to day, then the methodology and skills of NLP will have you on the way.
I Didn't Sin—It Was My Brain Brain researchers have found the sources of many of our darkest thoughts, from envy to wrath.


by Kathleen McGowan; illustrations by Christopher Buzelli
From the September 2009 issue, published online October 5, 2009
This article talks about the research neuroscience has begun into such things as inhibitory cognitive control networks involving the front of the brain activate to squelch the impulse and other brain regions such as the caudate—partly responsible for body movement and coordination—suppress the physical impulse. These are interesting to follow, but as yet do not yet seem to have identified the solutions that many have already found in other modalities such as NLP.
More disagreeable forms of sin such as wrath and envy enlist the dorsal anterior cingulate cortex (dACC). This area, buried in the front of the brain, is often called the brain's "conflict detector," coming online when you are confronted with contradictory information, or even simply when you feel pain…. In the annals of sin, weaknesses of the flesh—lust, gluttony, sloth—are considered second-tier offenses, less odious than the "spiritual" sins of envy and pride. That's good news for us, since these yearnings are notoriously difficult to suppress.
Why does being bad feel so good? Pride, envy, greed, wrath, lust, gluttony, and sloth: It might sound like just one more episode of The Real Housewives of New Jersey, but this enduring formulation of the worst of human failures has inspired great art for thousands of years. In the 14th century Dante depicted ghoulish evildoers suffering for eternity in his masterpiece, The Divine Comedy. Medieval muralists put the fear of God into churchgoers with lurid scenarios of demons and devils. More recently George Balanchine choreographed their dance.….
For most of us, it takes less mental energy to puff ourselves up than to think critically about our own abilities. In one recent neuroimaging study by Hidehiko Takahashi of the National Institute of Radiological Sciences in Japan, volunteers who imagined themselves winning a prize or trouncing an opponent showed less activation in brain regions associated with introspection and self-conscious thought than people induced to feel negative emotions such as embarrassment. We accept positive feedback about ourselves readily, Takahashi says: "Compared with guilt or embarrassment, pride might be processed more automatically."
The most notable thing about lust is that it sets nearly the whole brain buzzing.
Pride gets its swagger from the self-related processing of the mPFC, which Keenan calls "a very interesting area of the brain, involved in all these wonderful human characteristics, from planning to abstract thinking to self-awareness." Using transcranial magnetic stimulation (TMS), in which a magnetic field applied to the scalp temporarily scrambles the signal in small areas of the brain, he was able to briefly shut off the mPFC in volunteers. With TMS switched on, his subjects' normal, healthy arrogance melted away. "They saw themselves as they really were, without glossing over negative characteristics," he says….
It makes sense that we are so sensitive to being cheated, notes Matthew Lieberman, a professor of psychology at the University of California at Los Angeles. "Mammalian survival depends on social bonds, and fairness is a really important social cue," he says. Inequitable treatment might be an important sign that we are not valued by the group, he says, so we had better pay attention.
In response to unfair offers, the brain activates the pain detection process that takes place in the multitasking dACC. Interestingly, it also engages the bilateral anterior insula, an area implicated in negative emotions such as anger, disgust, and social rejection. The picture that emerges from fMRI is that of a brain weighing an emotional response (the urge to punish the guy who cheated you) against a logical response (the appeal of the cash)….
See the full article at I Didn't Sin—It Was My Brain from the Discover Magazine, Sep 2009
This is a link to the transcript of a Catalyst Report which is about the Synaesthesia. This use of the term Synaesthesia is basically the same concept that NLP has had from many years ealier. See our previous article on Synaesthesia to understand a little more about the concept from both an NLP perspective, and also from other research teams in Sydney.
The interest in this documentary is mainstream research of synaesthesia going on in Australia. The researchers also propose that synaesthetes have extra brain regions devoted to colour imagery. I am not sure if they are getting their information from fMRI scans or similar, or experience with their studies. I do wonder how they would cope with the knowledge that the average NLP Practitioner that often overlaps representations to see if we can give the client more choice.

From the Catalyst Report (ABC) on Synaesthesia:
Around 10,000 Australians have this condition, where the five senses – sight, sound, taste, smell and touch – are mingled in some way….. It's early days yet but already the researchers have found that people with synaesthesia do seem to use their brains differently and this can actually help them in certain tasks. For example, it seems a surprisingly large number of synaesthetes are artists…Jennifer and Catherine are…and a tantalising theory is… the reason for that is that synaesthetes have extra brain regions devoted to colour imagery.
Unravelling the secrets of synaesthesia could even ultimately advance medical science, by revealing how the brain puts the information from the senses together in all of us. But in the meantime the goal is to find an explanation for Jennifer and Catherine's colourful world. A world that really makes you think you're missing out on something here….

Sources for this story
Catalyst Report (ABC) on Synaesthesia and a site to Check if you have a Synaesthesia
Story Contacts
Anina Rich, PhD Student in Department of Psychology, University of Melbourne
Dr Jason Mattingley, Research Fellow in Department of Psychology, University of Melbourne
Cognitive Neuroscience Laboratory, School of Behavioural Science, University of Melbourne, Victoria 3010, Australia
See also TIME Magazine which is of interest, where entertainment is pushing the boundaries and combining two senses in the one event – Opera 2.0
where audience members listen to and smell "Green Aria," described by its writer and director Stewart Matthew as a "scent opera" at the Guggenheim museum in Bilbao, Spain.

The Synaesthetic Phenomenon Excerpt… When we speak of various types of communication that are perceived through the combination of two or more senses and are integrated and focused at the level of meaning, we are, of course, speaking about the phenomenon that goes under the name of synaesthesia. Grosso modo, synaesthesia is a kind of intertransposition based on the interaction of the sensory experience during the act of perception. As such, it belongs to the realm of metaphor. Yet it can be considered more than a simple metaphor.
Surrounding the wheel, from the king's right to his left, at the points where the spokes connect to the rim, are five animals: a spider in its web, a eagle or vulture, a monkey, a cock, and a boar. According to a passage from De rerum natura by Thomas of Cantimpré, each of the five animals represents a sense18. Now for our purpose, this painting may be considered as the first known visual representation19 of the connections among the five senses, both in relation to the sense of touch (scholastically understood as the most important sense, in that it is the foundation of all senses and the closest "to the fontal root", that is common sense)20 and in relation to the king, who may be considered to represent man's ratio.
NLP Café Brisbane is a quality, active NLP practice group, which aims to help NLP Professionals to advance their skills. This group was established by Blue-Sky Transformation as part of their "Sustainable Success through Community Contribution" initiative and an outpost program of NLP Comprehensive. Members meet twice a month to learn, practice and develop their NLP skills and applications.
NLP Café Brisbane is also the premier source of information for the public regarding NLP application and professional services and acceptable conduct.
Opening Hours
Door Opens at 6:00pm, Registration: 6:15pm, Starts: 6:30pm, Finishes: 8:30pm or 09:00pm some nights
For more detailed Maps and venue details

This video may start dark, but will brighten up after about 30 seconds.
http://www.dailyrecord.co.uk atricle Excerpts… Mar 30 2009 By Craig McQueen
DURING his military career, Andy Lorimer saw action in warzones and troublespots including Iraq, the Balkans and Northern Ireland.
….He said: "I was having nightmares, flashbacks, insomnia. My behaviour was very odd. I was sent for evaluation by a psychiatrist and I was diagnosed with PTSD."
Medically discharged in 2003 with a war pension, Andy then had to try to get help…..
….started getting better thanks to neuro-linguistic programming (NLP).
NLP examines patterns of behaviour and the experiences that underpins them and aims to help people change their behaviour through self-awareness and effective communication.
Recent news on the rise of PTSD
Institute for Operations Research and the Management Sciences (2009, September 15). Iraq Troops' PTSD Rate As High As 35 Percent, Analysis Finds. ScienceDaily. Retrieved September 16, 2009, from http://www.sciencedaily.com­ /releases/2009/09/090914151629.htm