You are currently browsing Mark's articles.
NLP Practitioners be aware for yourself and your clients how important a good night's sleep is. It is great that through New Code processes we can probably get a few more choices for how to resolve this for yourself or for others. If your client is trying to perform optimally, than any signs that indicate a lack of good sleeping patterns should also be addressed.
Lack of sleep 'linked to early death' from the BBC.
Insomnia
Not too little sleep, yet not too much, the experts advise
Excerpt…
Getting less than six hours sleep a night can lead to an early grave, UK and Italian researchers have warned. They said people regularly having such little sleep were 12% more likely to die over a 25-year period than those who got an "ideal" six to eight hours. They also found an association between sleeping for more than nine hours and early death, although that much sleep may merely be a marker of ill health.
Sleep journal reports the findings, based on 1.5m people in 16 studies.
Read the rest of this entry »
New Code NLP is so much about patterns. Look for strange behaviours in people, patterns of relating, walking, dodging, greeting…
Noticing the larger patterns
So much to be said when we mentally speed up people we are modelling and this gives you a long-distance hint into what you can notice.
Ants metaphor
The study of human behaviour can be usefully likened to the way we study ants. Why do we notice that ants stop and communicate or swap something as they travel with each of the ants they pass? If you can see this movie where people look like ants, and that the work we do with NLP as a metaphor for trying to understand the behaviour of people (ants) and how they interact, relate, rock, sway, move, move faster/slower.
Life Edit
Also as another metaphor, maybe when you are replaying movies of your own day, your own representation of the day – maybe remembering this sequence may help you fast forward through your own day.
The Sandpit from Sam O'Hare on Vimeo.
Video
Do you think you can Model Nature? A different perspective
Milton Erickson often asked his clients to observe nature to draw inspiration and resolve life's challenges. When solving a design problem, look to nature first. There you'll find inspired designs for making things waterproof, aerodynamic, solar-powered and more. Can we Model Nature to improve our life? Watch the video [on TED] or here…

See also A publication by Janine Benyus – The 2002 book, Biomimicry, describes a new science that studies nature's best ideas and then imitates these designs and processes to provide innovative and sustainable solutions for industry and research development. Author and international expert, Janine Benyus, is now focusing on working with industry and governments across the globe to implement her ideas.
'Janine Benyus is without question the world's most imaginative person in the field of environmental development and restoration. Time spent with Janine is a transmission of hope about what we can learn from and be within nature.' Paul Hawken, Natural Capital Institute
Biomimicry related links


The Biomimicry Institute promotes learning from natural forms, processes, and ecosystems to create more sustainable and healthier human technologies and designs.
Reading Lists – If you haven't read it already, Janine Benyus' book Biomimicry: Innovation Inspired by Nature is a must read. This book is the book that started us all down the biomimicry path with a new sense of hope and purpose. For all, it's a great read. For many, it's life changing. If you've read Janine's book, what should you read next? The Biomimicry Reading List (below) will help guide you through the many fascinating facets of biomimicry, from basic biology to engineering innovation to deep economy. We recommend that you start your reading adventure by selecting books from the areas that capture your attention most, and then challenge yourself to read from areas outside your discipline.

A recent study shows that when faced with a decision, it's best to take some time–relax and cool off–so logical thinking can guide us to the best choice. Christie Nicholson reports (Scientific American)

Play the Podcast here:
sa_p_podcast_100417 or from Scientific American's Website (Note that this broadcast uses stereo features and for part of the time, sound only comes from one channel)
Brain imaging studies show that low offers activate the anterior insula, an area associated with feelings of disgust or anger. So the authors note that the delay allows us to chill out and accept the most logical and best option even if we're dealing with cheapskate partner.
Notes: From our perspective, could this cooling off time be where the unconscious has a chance to get a message through to you about the choice?
From literature to architecture, academics and entrepreneurs are using neuroscience to explain everything from why we like a complex narrative thread to why round tables are more social. Christie Nicholson reports (Scientific American)

Play the Podcast here:
sa_p_podcast_100403 or from Scientific American's website
…all sorts of industries are jumping to use any new brain information to support their work. Neuromarketing claims to get objective truth about peoples' preferences by decoding the "reactions" of our neurons. Companies like No Lie fMRI, Inc., are capitalizing on the potential for tools that can "read the brain" to replace the polygraph in lie detection. The literary world wants to unweave the rainbow by studying the way the brain processes literature and certain narrative techniques. And there's even an Academy of Neuroscience for Architecture which reveals that oval tables make eye contact easier.
Podcast: Using Light to control the Brain…..this approach—called optogenetics—could return controlled movement to mice suffering from Parkinson's. Beyond controlling neural firing in the brain, scientists have recently found that by inserting another gene cells will glow green when they fire. That means they can watch the brain in detailed action, a step towards decoding its cryptic signals in order to understand just how our elusive brains work.
Scientists find that when the area of the brain responsible for understanding the intent of others is disrupted, moral judgment is also affected. Christie Nicholson reports (Scientific American)
Play the Podcast here:
sa_p_podcast_100329 or from Scientific American's website
The researchers disrupted the activity in this brain area using what's called transcranial magnetic stimulation (TMS). And they asked subjects to consider the morality of various acts. Some where the perpetrator had the intent to harm, others where they had no premeditation.
When subjects had their brains affected by TMS, they focused less on the intention of the perpetrator and more on the outcome of the act. Regardless of whether the protagonist wanted to poison their friend, if the friend was okay, then it wasn't such a bad thing. As opposed to a lucky outcome after a heinous act.
The ultimate goal is to understand how the brain makes moral judgments. Because the real world is often less black and white, where judgment is easy, than shades of gray.
We can't touch time, or smell it. Yet it is utterly inescapable. But, research shows, time is – at least partly – something we control in our heads.
Although we rely on other ques when they are available, have you ever woken from a good sleep because you have told yourself you must get up at a certain time? I know many times when I set an alarm for getting up for a specific event, my body wakes me about 2-10 minutes early.
The Caveman experiment (from BBC article)
The body clock determines our most fundamental behaviours: when we wake up, go to sleep, and eat. But it also determines our physical strength and performance over a day.
However basic the clock's functions seem to us today, its existence was only proved in 1962, by a French caver.
19th September 1962: Michel Siffre, the scientist who spent nine weeks alone in a cave 400 ft underground in southern France has his eyes covered to protect them from the light. He is being helped by two gendarmes to a helicopter on his way to Nice. (Photo by Keystone/Getty Images)
Michel Siffre had been planning to study the movement of a glacier through an underground cave, when he realised the enormous potential of his experiment for the field of biology.
"I had the idea of my life: I decided not to take a watch in the cave. I decided to live without time cues," he said.
By isolating himself underground, away from daylight, clocks or routines, he hoped to discover whether the body had its own rhythm. And if so, what it was.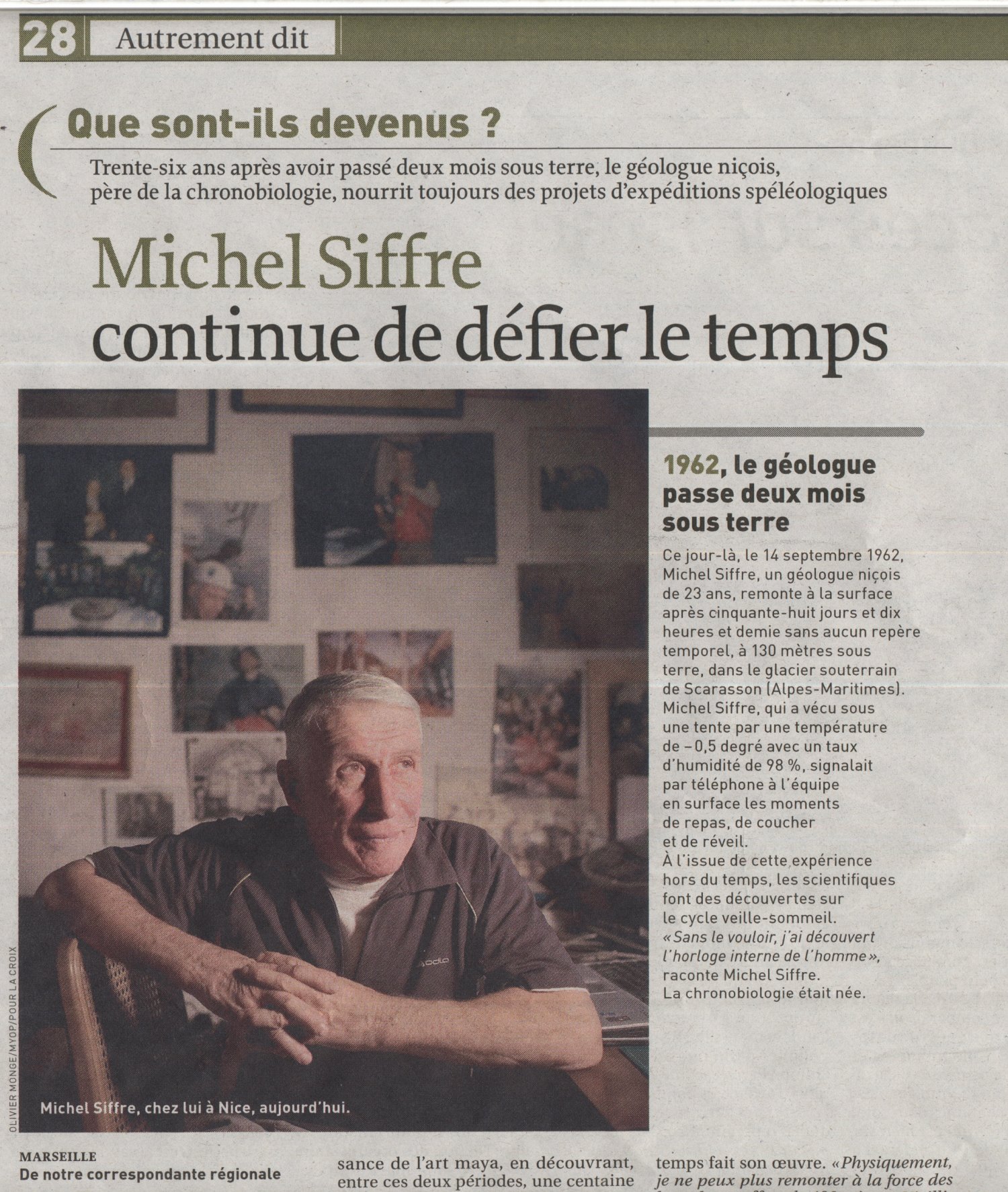 The continuation of the newspaper article is in French also.
"I decided to live following my feelings of hunger, my feelings of going to sleep. In the cave it's always dark, then your body follows its own sense," said Mr Siffre.
His plan was to call a surface-team of assistants every time he woke, ate, exercised or urinated so every one of his biological functions could be monitored.
Each time, he would give an estimate of the date and time, and the surface-team would compare this with the real time. This he did for two months, before emerging into the real world. Mentally, he had completely lost track of time, but the results showed his body had kept up a rhythm.
While the length of Siffre's waking days varied widely, from 40 hours to just six, a clear pattern emerged. The average length of his days was just over 24 hours. Evolution, it seems, had tailored his body's clock to run closely to the Earth's day length.

It's now known that the body clock is controlled by a tiny pea-sized organ in the brain called the suprachiasmatic nucleus, or SCN. This tiny region commands a chain of chemical and nervous instructions that ripple through the body, controlling how each organ and tissue functions over the 24-hour day.
Given that this year in our training, our business consulting and through NLP Cafe and other forums we will be focussing on Modeling, it would be a good time to re-publish some of the defining articles on the subject. This entry is an article first published in The Model Magazine, Edition 3, 2005 – An Announcement to The NLP community from John Grinder (the Co-Creator of NLP) and Carmen Bostic St.Clair. It includes and Introduction by Robert Dilts.
John Grinder talks about the importance of unconscious signals in New Code NLP.
John Grinder was interviewed by Peter Salisbury in Paris November 2009.
Use this link if the embedded version doesn't work for your browser.
John Grinder interviewed by Peter Salisbury in Paris November 2009.

John Grinder talks about the importance of unconscious signals in New Code NLP. Use this link if the embedded version doesn't work for your browser.
Hire Ground, January 21, 2010
Do hiring managers know your 'emotional IQ'?
By Randy Woods, NWjobs
[excerpt] original article
Ever wonder how some people manage to sail through the job search process? Even though you plan your answers meticulously and research positions as much as possible, there are some people who seem to know how to make a connection quickly and nail the interview every time.
True, an abundance of brains, charm and luck may have something to do with it. Career coach Lisa Caldas Kappesser, however, says something far more subtle is more often at work. The hiring managers are picking up on what she calls "emotional intelligence" coming from the interviewee. This isn't intelligence that shows up in someone's resume or work history, it comes across in the way a person communicates, both verbally and nonverbally.
In her new book "The Smart New Way to Get Hired: Use Emotional Intelligence and Land the Right Job," Kappesser describes how emotional intelligence can be measured by a combination of four skill sets: self-awareness, self-management, social awareness and social skills.
"Employers look for emotional intelligence when they hire or promote employees," says Kappesser, president of EQ Coaching Solutions. "They're developing structured interview questions and giving assessments that tap into emotional intelligence, because research has convinced them that such intelligence is a critical part of developing high potentials, star performers and leaders."
Here are a few techniques from Kappesser's book to help strengthen your four main skill sets and boost your confidence in time for your next interview.
Focus on three main points. Choose three messages that should be highlighted throughout your overall interview performance. It could be technical skills, experience or ability to solve problems. Whatever works for your particular situation, "plan how you will get these points across through your answers to interview questions," Kappesser says.
Research what the company needs. It's amazing how many job candidates still don't bother to read any further about potential employers beyond the job listings. "Employers admire candidates who show genuine interest in their company by being knowledgeable," she says. "Share with them how you plan to meet those needs."
Know your brand. "Ask yourself how you want others to think of you and remember you when you leave the interview," Kappesser says. If you emphasize what is unique about yourself, this image will remain in the hiring manager's mind and could help you stand out from the crowd.
Create a good communication flow. Demonstrate your interest and communication skills by asking questions, especially if you don't understand something, she says. But remember to be brief. "Let the interviewer ask for more details about any information you share," she adds.
Smile and show a sense of humor. It seems obvious, but many interviewees are too nervous to allow their sense of humor show through. A little levity, Kappesser says, "helps create a positive connection with the interviewer, which can give you the edge over other qualified candidates."
Writer and editor Randy Woods has filled out more job applications than he can count — so you don't have to. Email him at hireground@nwjobs.com.
The Peeriodic Table of Illusions from an article on http://www.newscientist.com 12 November 2009 by Richard L. Gregory, Magazine issue 2733. © Copyright Reed Business Information Ltd.
Excerpt….
FOR all the fun we have with them, illusions do serious work in illuminating how our brains work, and in particular how perception works. They may also help us understand how consciousness developed, and tell us about our "neuro-archaeology" and the behaviour patterns laid down in the nervous system over evolutionary time.
But let's concentrate on perception: it is tricky enough. I've tried to classify illusions in a way that shows the principles underlying them, starting with physical causes, moving on to physiological disturbances of neural signals, and finally to cognitive processes – where the brain tries to make sense of sensory signals, not always successfully.
The distinction between physiological and cognitive is not straightforward. It's rather like the distinction between how a machine works and what it does. For example, a can opener needs two descriptions: the mechanism of levers and cutters, and what this does to open a can.
That distinction between physiological and cognitive has "real-world" consequences. Think of the placebo effect, which suggests close connections between the physiological and the cognitive-psychological. So different types of illusions could be significant in ways we do not yet know. That's why I have constructed my Peeriodic Table of Illusions (bad pun intended) thus: blindness, the ambiguities, instability, distortion, fiction, and paradox, plus their causes.

….


We know what we see is very different from the images on our retinas because perceptions are scaled, like maps. So what sets the scaling for seeing the sizes and shapes of surrounding objects? Using ambiguity illusions I found that the scaling in Ponzo and Muller-Lyer illusions can be set from visual cues, such as the convergence of lines by perspective, or from the current perception of distance. The fact that the same retinal image can give more than one perception, as when perceptions "flip", is useful because it lets us separate "bottom-up" (from the eye) from "top-down" (from the brain) processes. This way we know that a perceptual change without a change in the eye must be top-down, from the brain, and not bottom-up, as there is no change in the image….